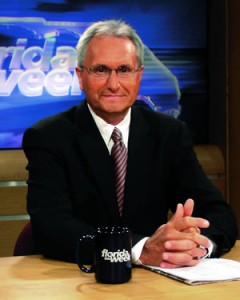 Join fellow Democrats at our November luncheon as we welcome Rob Lorei, moderator of WEDU's Florida This Week. Every Friday Rob leads a diverse roundtable of journalists, academics, officials, and other political insiders for lively talk on the political issues facing Floridians. Just 4 days after the upcoming election we will hear Rob's expert re-cap of the results and his insight into Florida politics.
Reservations are required
To make a reservation, e-mail reserve@sarasotadems.com and indicate the name of your guests and your menu choices, or leave that information on the voice mail at 941-379-9233.
Location
Please note the new location for this month's luncheon:
The Francis
1289 Palm Avenue(near the intersection of Main Street and Palm Avenue
Free parking is available in the Palm Avenue Parking Garage.
Time
Social Hour starts at 11 a.m. The program starts promptly at noon.
Cost / Payment
Cost for Members is $26 each.
Cost for non-members or walk-in's is $28 each.
You may pay by cash, credit card, or with a check made payable to the DCS. Please fill out your checks ahead of time.
Menu
Salad Louie's – Roasted Chicken, Butter Leaf Lettuce, Asparagus, Tomato, Hard Cooked Egg, Caper Green Goddess Dressing OR
Cambazola Stuffed Chicken – Asparagus-Tomato Couscous, Cannellini Beans, Romesco Sauce
Dessert: Chocolate Chiffon Cake
Deadline
IMPORTANT – Reservation deadline extended to Thursday, November 6.